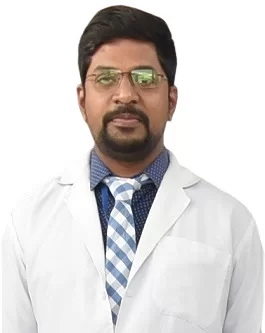 Dr.Vishwas
Associate Professor
Academic Qualifications: MBBS, MD
| SL NO | Degree | Specialization | Institute | Year of passing |
| --- | --- | --- | --- | --- |
| 1 | MBBS | - | Sri Devaraj Urs Medical College, Kolar | 2013 |
| 2 | MD | Community Medicine | Sri Devaraj Urs Medical College, Kolar | 2018 |
Additional qualifications / training
Course on 'Principles and practice of epidemiology' by Christian Medica College, Vellore.
Teach to Reach Level 1 certification on Immunization during Pandemic from Geneva Learning Foundation.
WHO scholar level 1 certification in Routine Immunization activity planning from World Health Organization.
United Nations Department of Safety and Security (UNDSS) BSAFE course.
Course on 'The COVID-19 Response in India: Impact on Women and Children's Health and Wellbeing' from Johns Hopkins Bloomberg School of Public Health.
EXPERIENCE
| Institution / Organisation | Designation | Role | Tenure |
| --- | --- | --- | --- |
| SDUMC | Asst. Prof | Teaching, Clinical, Research, | 2018-2023 |
| World Health Organization | Rapid Response Team Member | Support Government of India in roll out of Measles Rubella campaign in select districts. | 2018-2019 |
| SDUMC | Assoc. Prof. | Teaching, Clinical, Research | 2023- till date |
CURRENT ACADEMIC ROLE & RESPONSIBILITIES
Undergraduate and postgraduate teaching - Deliver engaging lectures, seminars, tutorials and conducting workshops
Coordination with colleagues in continuous reviews and curriculum development, ensuring students receive high-quality courses.
Implement strategic lesson planning, monitoring progress and performance against set targets and outcomes.
Develop engaging and interesting research projects, obtain funding and publish research increasing university exposure.
Planning and development of teaching materials, workbooks, question banks, LMS content and class projects.
Write scholarly papers and defend positions to add to collective base of field knowledge. Attend conferences to learn about new research and present findings.
Supervise student projects, facilitating progress and encouraging deeper learning through application.
Direct research of individuals engaged in robust work during post-graduate studies in pursuit of advanced degrees.
Collaborate with government and non-government agencies for holistic promotion of health of the community.
RESEARCH
| Name of project | List of researchers | ongoing / completed | Funded / Non funded | Funding agency | Funds sanctioned |
| --- | --- | --- | --- | --- | --- |
| Study of magnitude and associated factors of missed oppurtunities for vaccination among children aged 0-24 months in Kolar: A Mixed Methods Study. | Dr. Vishwas S, Dr.Muninarayana C, Dr. Charini, Mr.Ravishankar.S | Ongoing | Funded | SDUAHER | Rs.198000/- |
PUBLICATIONS
| Title of article | Name of journal | Year of publication | List of authors |
| --- | --- | --- | --- |
| Trends in trauma care before and after the introduction of 'Mukhyamantri Santwana Harish Scheme'in a tertiary care hospital at Kolar | International Journal of Community Medicine and Public Health | 2018 | VS Kottareddygari, S Vishwas, GP Praveen, A Abraham, PN Sreeramulu |
| Investigation of acute diarrhoea outbreak at Narasapura, Kolar | International Journal of Community Medicine and Public Health | 2019 | S Vishwas, R Suryanarayana |
| Awareness and Practices of a Rural Community Regarding Mental Health Problems | Cureus journal of medical science | 2023 | V Jayan, S Vishwas |
| Internet Addiction and Gaming Disorder During the COVID-19 Pandemic Among Young People in Southern Karnataka | Cureus journal of medical science | 2023 | NB Mokshathaa, S Vishwas |
STUDENT PROJECTS
Guided following student projects
ICMR STS (2022) : Internet addiction and Gaming Disorder during COVID19 pandemic among young people in Southern Karnataka by Ms.Narendra Babu Mokshathaa
ICMR STS (2023): Challenges in building pandemic resilient health system: Incidence and determinants of catastrophic health expenditure among households of Southern Karnataka by Mr.Faizur Rahman