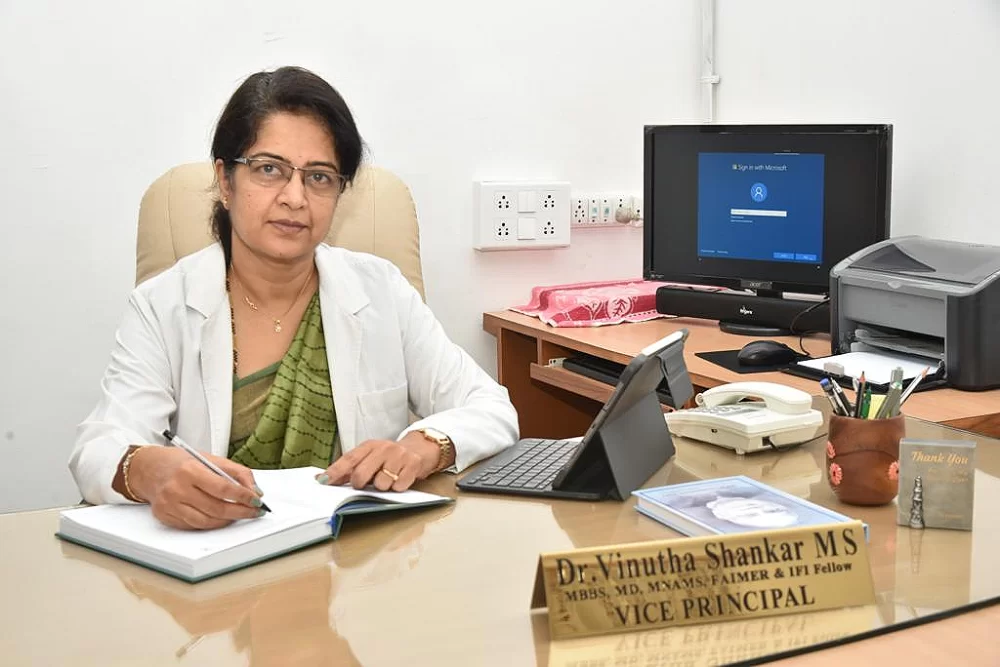 Dr. Vinutha Shankar M.S
Vice- Principal
She completed her MBBS from Mysore Medical College and obtained her Masters in Physiology from Bangalore Medical College. She joined SDUMC as lecturer in Physiology and has served in various capacities since. She has been the convener of SRC and has organised Demedcon, an annual international student research conference from 2014-2017. She has undergone her faculty training in NTTC in 2004 and has been an active member and convener of MEU until she took charge as Director UCHPE. Under her organisational Leadership, International conference in hoe iMECON was conducted in 2022 which placed sdumc on the global Map . She has conducted International webinars and workshops aimed at faculty empowerment. She has guided 3 phd scholars and 12 post graduate students in physiology. She has been a resource person in national conferences and workshops . She has published 50 papers in national and international journals. She has completed her fellowship in faimer Psgfri, Coimbatore in 2009, and has completed her IFI fellowship from Faimer institute , Philadelphia in 2023.


Message
With the opportunity to steer competency based medical education in producing Indian medical graduates , we , at sdumc have a perfect blend of trained faculty and excellent infrastructure . Both the undergraduate and postgraduate programs that we offer have been Most sought after for the quality of education that is imparted. Our flag bearers are the alumni who have imbibed the ethos of institution and excelling in areas of health care delivery with competence that matches global Standards.

The community oriented education is the mainstay of the competency based curriculum that we offer which is aligned with national health goals We aim to include many more programs for medical specialty and super specialty to extend advanced health care facilities to the people of rural areas where our institution is situated in addition to primary health care facilities.