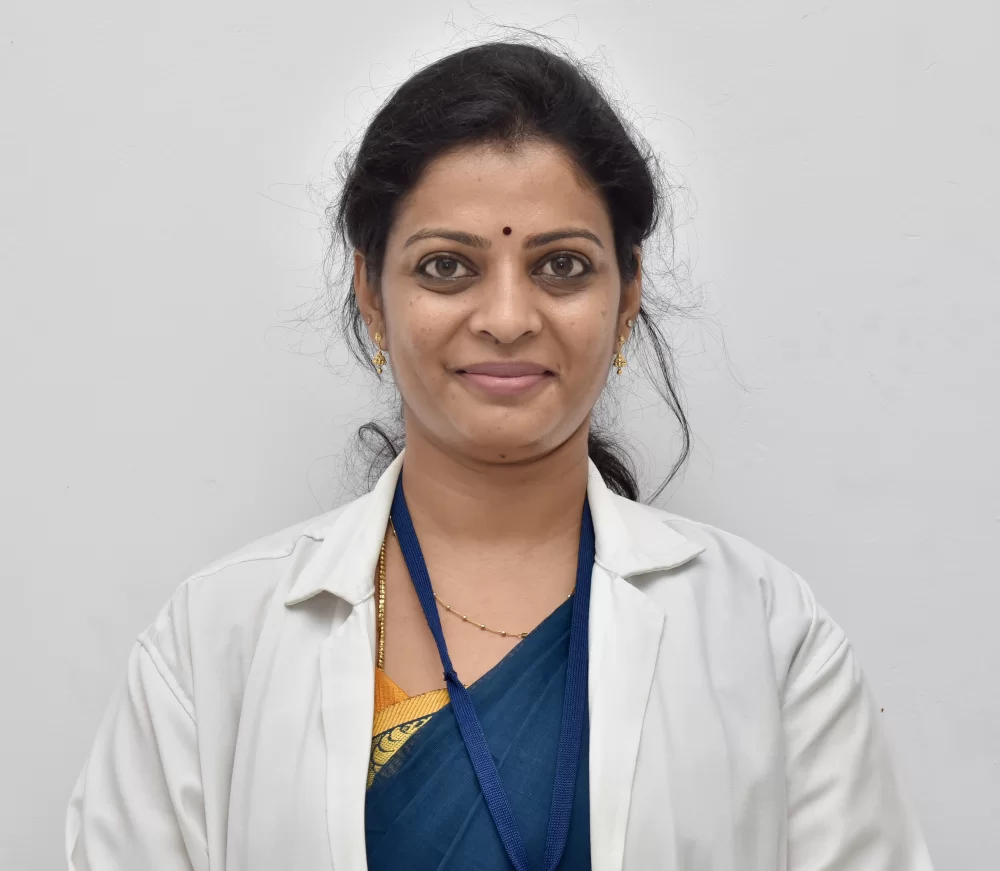 Dr Susanna TY
Professor
Academic Qualifications: MBBS, MD
| SL NO | Degree | Specialization | Institute | Year of passing |
| --- | --- | --- | --- | --- |
| 1 | MBBS | Bachelor of Medicine and Bachelor of Surgery | Sri Devaraj Urs Medical College, Kolar | 2000-2006 |
| 2 | MD | Biochemistry | Father Muller Medical College,Mangalore | 2009-2012 |
Additional qualifications / training
| SL NO | Degree | Specialization | Institute | Year of passing |
| --- | --- | --- | --- | --- |
| 1 | PGDGT | Post Graduate Diploma in Genomic Technology | Sri Devaraj Urs Academy of Higher Education and Research | 2015 |
| 2 | MNAMS | Membership of the National Academy of Medical Sciences | National Academy of Medical Sciences INDIA | 2022 |
EXPERIENCE
| Institution / Organisation | Designation | Role | Tenure |
| --- | --- | --- | --- |
| SDUMC | Assistant Professor | Teaching, learning and evaluation process of Undergraduate and Post graduate programs/courses, Diagnostic laboratory duty, Research activities and Administrative duty | April 2013- July 2018 |
| SDUMC | Associate Professor | Teaching, learning and evaluation process of Undergraduate and Post graduate programs/courses, Diagnostic laboratory duty, Research activities and Administrative duty | August 2018-April 2023 |
| SDUMC | Professor | Teaching, learning and evaluation process of Undergraduate and Post graduate programs/courses, Diagnostic laboratory duty, Research activities and Administrative duty | March 2023-Till date |
CURRENT ACADEMIC ROLE & RESPONSIBILITIES
Teaching, learning and evaluation activities of Undergraduate Ist MBBS Students in Biochemistry
Teaching Biochemistry to Post graduate MD students
Helping the students in their research work
Certified Internal Auditor NABL ISO 15189 -2007 – Involved in Internal Audit and accreditation process of Central Diagnostic Laboratory. RLJH& RC
Mentoring of undergraduate students
Member of the University Central Library Committee, SDUAHER
Co-Convener of Magazine Committee, SDUMC, SDUAHER
Member of the Student Research Committee, SDUAHER
RESEARCH
| Name of project | List of researchers | Funded / Non funded | ongoing/ completed | Funding agency | Funds sanctioned |
| --- | --- | --- | --- | --- | --- |
| Gender specific utility of Lipid ratios and its Correlation with systemic Inflammation in Acute Myocardial infarctions (AMI) patients with Type 2Diabetes mellitus". | Dr. Susanna T.Y Dr. ShashidharK.N Dr. Lakshmaiah V Mrs. Munilakshmi.U | Funded | completed | SDUAHER | 85,080 /- |
| Quantitative assessment of interleukin 6 levels in benign, premalignant and malignant lesions of Oral cavity | Dr.S.Azeem Mohiyuddin Dr.Sagayaraj .A Dr. Susanna T.Y | Funded | completed | SDUAHER | 94,330/- |
| Assessment of Knowledge and Attitude about Oral Cancer among Outpatient Population in a Tertiary care Rural Hospital. | Dr. Susanna TY Dr. Sagayaraj A Dr. Anirudh Mr. Ravishankar | Non funded | completed | NA | NA |
| Does Vitamin D3 supplementation improve the Depression scores among rural adolescents? A randomized control trial | Dr. Pradeep Dr. Susanna TY Dr.Ravishankar Dr.Sudha Reddy | Funded | completed | SDUAHER | 6,12,184/- |
| Estimation of Ferritin and D-Dimer levels in Covid- 19 patients with Mucormycosis | Dr. Susanna TY Dr. Azeem Mohiyuddin, Dr.Sagayaraj.A, Dr.Brinda, Dr.Anirudh | Non funded | completed | NA | NA |
AREAS OF INTEREST, EXPERTISE AND RESEARCH
S.No
Thrust area
Projects
Publications
Non Funded
Funded
1
Novel Biomarkers (Genetic and Protein markers), Oxidative stress, and Inflammatory markers in Cancer.

Assessment of Knowledge and Attitude about Oral Cancer among Outpatient Population in a Tertiary care Rural Hospital.

Estimation of Serum Alkaline Phosphatase in Patients with T4a Oral Squamous Cell Carcinoma with Suspected Bone Involvement

Usefulness of Salivary Sialic acid as a Tumor marker in Tobacco chewers with Oral Cancer. Reference ID: STS ICMR 2017- 02485

Quantitative assessment of interleukin-6 levels in benign, premalignant and malignant lesions of oral cavity

Azeem MS, Yesupatham ST , Mohiyuddin SM, Sumanth V, Ravishankar S. Usefulness of salivary sialic acid as a tumor marker in tobacco chewers with oral cancer. Journal of cancer research and therapeutics. 2020.16(3).605-611.
Dr. Susanna TY , Dr. S.M. Azeem Mohiyuddin and Dr. Sagayaraj. A. Non Invasive Assessment of IL6 and its Clinico pathologic Correlation in patients with Oral Squamous cell carcinoma. Medica Innovatica.202211.16-19.
PUBLICATIONS
| Title of article | Name of Journal | Year of publication | List of authors |
| --- | --- | --- | --- |
| An Insight into Survivin in Relevance to Hematological, Biochemical and Genetic Characteristics in Tobacco Chewers with Oral Squamous Cell Carcinoma. | Cells | 2023 | Susanna T Y,C.D Dayanand, SM. Azeem Mohiyuddin Harendra Kumar M.L. |
| Is Sunshine Vitamin Related to Adolescent Depression? A Cross-Sectional Study of Vitamin D Status and Depression Among Rural Adolescents | Cureus | 2023 | Pradeep Tarikere Satyanarayana , Ravishankar Suryanarayana , Susanna Theophilus Yesupatham ,Sudha Reddy , Navya Reddy |
| Postoperative serum Parathyroid Hormone Levels as a predictor of Hypocalcaemia in patients undergoing Total Thyroidectomy. | Indian Journal of Otorhinolaryngolo gy and Head and Neck Surgery | 2022 | Dr.Kunal Thakur, Dr.Susanna TY, Dr.Sagayaraj.A Dr.S.M.Azeem Mohiyuddin. |
| Cellular Concentration of Survivin and caspase 3 in habitual tobacco chewers with and without oral squamous cell carcinoma in south indian rural population – A case control study | Diagnostics | 2022 | Dr. Susanna TY, Dr. Dayanand CD, Dr. S.M. Azeem Mohiyuddin |
| Non Invasive Assessment of IL6 and its Clinico pathologic Correlation in patients with Oral Squamous cell carcinoma. | Medica Innovatica | 2022 | Dr. Susanna TY, Dr. S.M. Azeem Mohiyuddin and Dr. Sagayaraj. A. |
| Estimation of Ferritin and D-Dimer levels in COVID-19 Patients with Mucormycosis – A Pilot Study | J Clin Diagn Res | 2022 | Susanna Theophilus Yesupatham, S. M Azeem Mohiyuddin, Sagayaraj A, Brindha. H.S, Anirudh.P.B |
| Quantitative Assessment of Interleukin-6 and Ferritin Levels and its Clinical Correlation among COVID-19 Patients. | J Clin Diagn Res | 2021 | Susanna Theophilus Yesupatham, Preethi Rathnasabapathy, M P Sujatha, S M Azeem Mohiyuddin, Ravishankar Suryanarayana. |
| Evaluation Of Hepatic Enzymes And Its Association With Glycemic Control Among Non-Obese Type 2 Diabetes Mellitus Patients. | Medica Innovatica | 2021 | Charan RC,Susanna TY,Srinivas SV. |
| Usefulness of salivary sialic acid as a tumor marker in tobacco chewers with oral cancer. | J Can Res Ther | 2020 | Azeem MS, Yesupatham ST, Mohiyuddin SM, Sumanth V, Ravishankar S. |
| Is Survivin a new target for anti-cancer therapy: Structural aspects, Molecular mechanism and Anti – Cancer Therapeutic strategies targeting Survivin – An Overview. | Medica Innovatica | 2020 | Susanna Theophilus Yesupatham, Dayanand CD, SM Azeem Mohiyuddin. |
| Preanalytical variables and its impact on total quality management of clinical biochemistry laboratory- A tertiary referral rural hospital study. | Int J Clin Biochem Res | 2018 | Munilakshmi. U, Shashidhar K N, Susanna T Y. |
| Gender specific utility of lipid ratios and its correlation with systemic inflammation in acute myocardial infarction (AMI) patients with type 2 diabetes mellitus – A hospital based study | Int J Clin Biochem Res | 2018 | Yesupatham S T , Uppalamethi M, Nagaraj S K, Venkataswami L |
| A Correlative Study Of Thyroid Profile And Mineral Status In Patients With Hypothyroidism -A Hospital Based Case Control Study. | Asian J Pharm Clin Res | 2016 | Susanna T Y, Sagayaraj A, Shashidhar K N, Gomathi.M M, Mahesh |
| A comparative and correlative study of Sialic acid, Malondialdehyde and Anti-oxidant status in Blood and Saliva of Male Chronic alcoholics. | International Journal of Biochemistry | 2014 | Susanna T.Y, Shivashankara A.R, Malathi.M |
| A Gender Based case control study of anthropometric and Renal profile in Rural Diabetic population. | IOSR ,Journal of pharmacy | 2014 | Munilakshmi.U, Dr.Susanna.T.Y,K.N.Shash idhar, Dr.Madhavi Reddy, Dr.Lakshmaiah. |
| Blood and Salivary Gamma Glutamyl Transferase and Oxidant-Antioxidant Status in Chronic Alcoholics : A Comparative and Correlative Study | National Journal of Basic Medical Sciences | 2011 | Shivashankara A.R, Susanna T.Y, Kevin J, Chiramel , Steffy Kuriakose, Malathi M. |
STUDENT PROJECTS
| Title of the research project | Student | Co-Investigators | Remarks |
| --- | --- | --- | --- |
| Usefulness of salivary sialic acid as a tumour marker in tobacco chewers with oral cancer | Ms. Mahanaz sultana Azeem | Dr. Susanna T Y | Completed |
| Assessment of Knowledge and Attitude about Oral Cancer among Outpatient Population in a Tertiary care Rural Hospital. | Dr. Anirudh | Dr. Susanna TY Dr. Sagayaraj A Mr. Ravishankar | Completed |
| Evaluation Of Hepatic Enzymes And Its Association With Glycemic Control Among Non-Obese Type 2 Diabetes Mellitus Patients. | Charan RC | ,Susanna TY, Srinivas SV. | Completed |