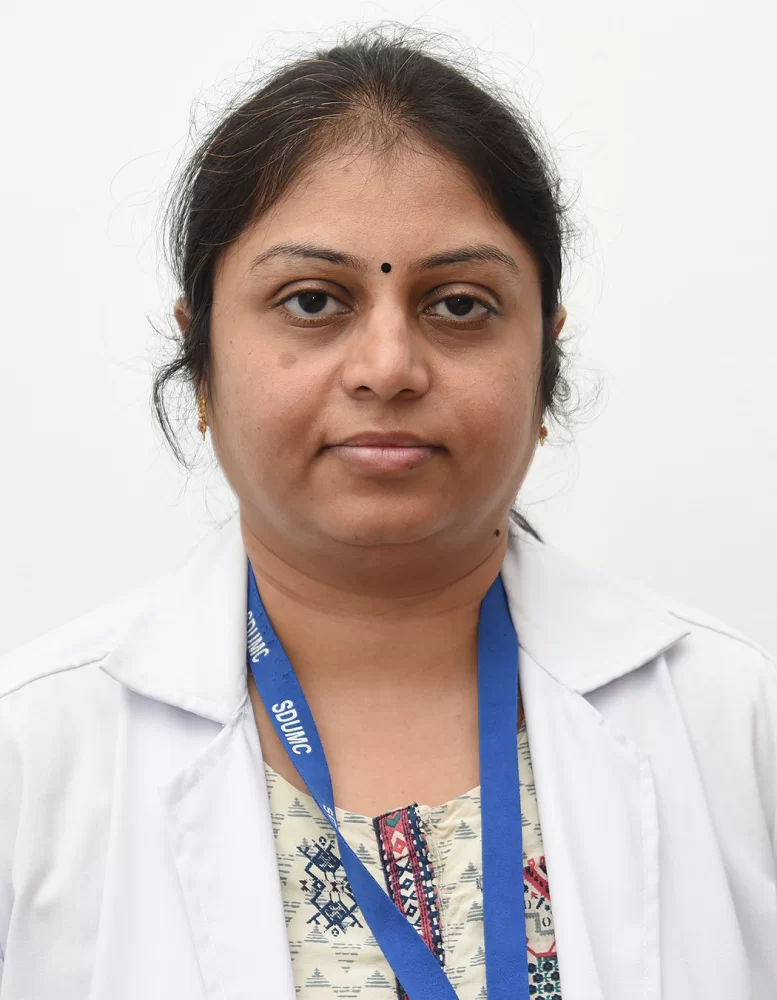 Dr Supreetha MS
Associate Professor
Academic Qualifications: MBBS, MD
| SL NO | Degree | Specialization | Institute | Year of passing |
| --- | --- | --- | --- | --- |
| 1 | MBBS | - | Sri Devaraj Urs Medical College, Kolar | 2009 |
| 2 | MD | Pathology | KVG Medical College. Sullia (DK) | 2014 |
Additional qualifications / training
Post graduate Diploma in Bioethics – Ongoing
EXPERIENCE
| Institution / Organisation | Designation | Role | Tenure |
| --- | --- | --- | --- |
| SDUMC | Asst. Prof | Teaching, Clinical. Research, laboratory | 12th January 2015-30th September 2022 |
| SDUMC | Assoc. Prof. | Teaching, Clinical. Research, laboratory | 1st October 2022- till date |
CURRENT ACADEMIC ROLE & RESPONSIBILITIES
Teaching Pathology to the undergraduate students of 2nd year MBBS and MD postgraduates.
Teaching BSc students and 2nd year Nursing students
Helping the postgraduate both MD pathology & MSc MLT students in their thesis as a Guide & co-guide.
Mentoring the students as a teacher guardian.
Working as an Quality manager in Central diagnostic laboratory services for NABL accreditation
Chapter Champions for chapter 1 AAC in NABH accreditation.
RESEARCH
| Name of project | List of researchers | ongoing / completed | Funded / Non funded | Funding agency | Funds sanctioned |
| --- | --- | --- | --- | --- | --- |
| - | Dr Supreetha MS, Dr Hemalatha A, Dr Azeem SM | Ongoing | Funded | SDUAHER | Rs 2,03,326 |
AREAS OF INTEREST, EXPERTISE AND RESEARCH
Quality assurance,
Thyroid pathology,
Salivary gland pathology,
Hematology
Cervical cytology and
Histopathology Techniques
Bioethics
PUBLICATIONS
Supreetha MS, Sathyavathi alva. Evaluation of neonatal septicaemia using haematological paramaters. International journal of recent Scientific research 2015;6(2):2775-78.
Pahim H, Supreetha Megalamane. Platelet indices and basic coagulation profile in Haemodialysis type 2 diabetic patients- a case control study in rural population. Journal of Clinical and Diagnostic Research. 2017 Oct, Vol-11(10): EC06-EC09.
Supreetha Megalamane, Hemalatha A, Shashidhar KN. A retrospective study of cytological grading in lymphocytic thyroiditis- its biochemical correlation. Journal of Clinical and Diagnostic Research. 2018 Aug, Vol-12(8): EC01-EC04.
Rajini T, Supreetha Megalamane, Das S. Retrospective study of correlation of fine needle aspiration cytology (FNAC) with histopathology in salivary gland lesions- In our tertiary center. Annals of pathology and Laboratory medicine 2018;5(11):A855-A860.
Shilpa, MD, Supreetha, MS, Varshashree. Histomorphological study of chorionic villi in products of conception following first trimester abortions. Trop J Path Micro 2018;4(7):499- 504.doi:10.17511/ jopm. 2018.i7.04.
Megalamane Supreetha, Preethi Ashok Utnal, Anantharamaiah Hemalatha. Role of papanicolaou smear in the diagnosis of pathological flora in reproductive age group patients in tertiary care centre. Medpulse International journal of Pathology 2019;9(2):72- 75.
Supreetha MS, Hemalatha A, Bhaskaran A. Salivary gland tumors: features not to be missed on cytology- A study of five cases. IP Journal of Diagnostic Pathology and Oncology 2019;4(1):50-53.
Kalyani Raju, Supreetha Megalamane Sunanda, Varsha Shree Rajanna. Cytology – Histology correlation of gynaecologic and non gynaecologic samples at tertiary health care center: A two year study. Biomedical Research and therapy 2019;6(4):3096-3106.
Shivendra VS, Megalamane Supreetha, Kariappa TM. Factors influencing semen anaylsis in cases of infertility. Medpulse International journal of Pathology 2019;11(1):16-20.
Shivendra VS, Megalamane Supreetha. Sathyavathi RA. Nucleated red blood cells and Hematological scoring system – Future trends in early onset neonatal sepsis. Medpulse International journal of Pathology 2019;12(1):53-58.
Preethi Utnal, Supreetha MS, Sheela SR. Serous Cystadenocarcinoma with Fibroma of left ovary and epithelial dysplasia of left fallopian tube- A case report. J Clin Biomed Sci 2020;10(1):37-40.
Megalamane S, Antharamiah A, CSBR Prasad. Appraisal of Cytohistomorphology of Papillary carcinoma Thyroid and its variants with evaluation of discrepant cases. Med J DY Patil Vidyapeeth 2022;3(1):1-4. doi:10.4103/mjdrdypu.mjdrdypu_492_20.
Nanada RL, Megalamane S. To evaluate efficacy of an Eco Friendly Enviropap and REAP stain in Cervical Cytology at Resource limited area. IJRS. 2023;11(11).
Supreetha M S, Shushan Swetha Jayekar, Krishnappa. Case Report of P. Vivax: An Atypical Presentation in Pediatric Age. Journal of Clinical and Biomedical Sciences 2022;12(3):116-119. DOI: 10.58739/jcbs/v12i3.2
Vajja Nagaraju, Shilpa Mannigatta Doddagowda, Supreetha Megalamanne Sunanda, Hemalatha Annantharamaiah, Kalyani Raju, Patrapalle Nadipanna Sreeramulu. Immunohistochemical Expression of Alpha Smooth Muscle Actin in Infiltrating Ductal Carcinoma of Breast and its Association with Histopathological and Hormonal Status: A Cross-sectional Study. Journal of Clinical and Diagnostic Research. 2023;17(4): EC28- EC32.
Student Projects
3 ICMR STS Approved and Funded projects