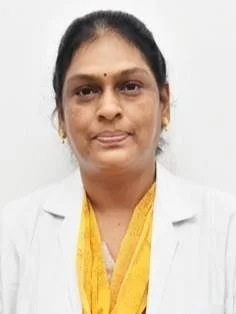 Dr. Sangeetha. T
Professor & HOD
Academic Qualifications: MBBS, MD
| SL NO | Degree | Specialization | Institute | Year of passing |
| --- | --- | --- | --- | --- |
| 1 | MBBS | - | SDM Medical college , Dharwar | 1999 |
| 2 | MS | Ophthalmology | Sri Devaraj Urs Academy of Higher Education and Research, Kolar | 2014 |
| 3 | FPRS (RGUHS) | Fellowship in Phaco refractive surgeries | Nethradhama Super specialty Eye hospital, Bengaluru | 2015 |
EXPERIENCE
| SL NO | Institution / Organization | Designation | Role | Tenure |
| --- | --- | --- | --- | --- |
| 1 | SDUMC | Asst. Prof | Teaching | 2014-2018 |
| 2 | SDUMC | Assoc. Prof | Teaching, Clinical, Research | 2018-2023 |
| 3 | SDUMC | Professor | Administrative, Teaching, Clinical, Research | 2023 till date |
| 4 | SDUMC | Prof. & HoD | Administrative, Teaching, Clinical, Research | 2023 till date |
CURRENT ACADEMIC ROLE & RESPONSIBILITIES
Teaching Ophthalmology to 2nd and 3rd year MBBS graduates and MS Ophthalmology Residents.
Helping the residents in their thesis as a Guide & co-guide.
Providing leadership in relevant field of specialization
Policy planning, monitoring, evaluation and promotional activities at department level.
Students counselling and interaction.
Consultancy services
Academic, administrative planning and development at department level and also assist at Institutional level.
To strengthen research and development of the department
Arrange guest lectures, seminars, workshops, conferences etc
Perform any other duties assigned by the head of the Institution
Certified BLS and ACLS provider.
RESEARCH
| Name of project | List of researchers | ongoing / completed | Funded / Non funded | Funding agency | Funds sanctioned |
| --- | --- | --- | --- | --- | --- |
| Prevalence and pattern of refractive errors in children and adults after COVID -19 pandemic - A Hospital based study | Dr. Sangeetha. T Shaguftha Khanum Nisbha | Completed | Non funded | - | - |
| A cross-sectional study to evaluate ocular manifestations in chronic kidney disease patients in a tertiary care centre | Yamini. K, Sangeetha. T, Kanthamani. K, H. Mohankumar, Athish K. K, Raheel M. | Completed | Non funded | - | - |
| Study on awareness, knowledge and services provided for the diagnosis and treatment of glaucoma by optometrists in primary healthcare centre of Kolar district | Dr. Darshan. S. M Dr. Sangeetha T Dr. Kanthamani. K Dr. H. Mohan Kumar Dr. Inchara. N | Completed | Non funded | - | - |
| Efficacy of Preoperative Risk Stratification on Small Incision Cataract Surgeries Performed by Residents | Dr. Alisha Elizabeth Alex Dr. Sangeetha. T Dr. Inchara . N | Completed | Non funded | - | - |
| Relationship between Glycosylated haemoglobin levels and Macular thickness on Optical Coherence Tomography in Type II Diabetic Patients – A Cross-Sectional observational study | Dr. Vrushabh Malani Dr. Sangeetha. T Dr. B.O. Hanumanthappa K. K. Athish Raheel Mohamed | Completed | Non funded | - | - |
| Evaluation of accommodation insufficiency in student population | Shakeela. B Dr. Sangeetha. T | Completed | Non funded | - | - |
| A case of tyrosinase negative oculocutaneous albinism | Dr. Lakshmi Haneela Nutakki Dr. Sangeetha. T | Completed | Non funded | - | - |
| Correlation of Intraocular pressure with Glycosylated haemoglobin levels in patients with Diabetes mellitus. | Dr. Sangeetha. T Dr. Yugandhara Patade Dr. Megha Varnika Shakeela. B | Completed | Non funded | - | - |
| Complication rate of posterior capsule rupture during cataract surgery after covid-19 pandemic – A hospital based study | Dr. Sangeetha. T Dr. Lekshmy M.S. Dr. Vrushabh Malani | Completed | Non funded | - | - |
| To study the correlation between clinical and histopathological features of pterygium | Dr. Sangeetha. T Dr. Vrushabh Malani Dr. Hemalatha | Completed | Non funded | - | - |
AREAS OF INTEREST, EXPERTISE AND RESEARCH
Cataract
Vitreoretinal Services
Cornea
Glaucoma
Uveitis and Ocular Inflammation
Outreach programmes – DBCS / NPCB
School screening program
Retinopathy of Prematurity screening
Diabetic Retinopathy screening
Trained in Basic Course Biomedical Research
Trained in course program of "The International Certificate on principles of Bioethics and Human Rights of The Unesco Universal Declaration on Bioethics and Human Rights in Medical and Health Science Education"
PUBLICATIONS
| Title of article | Name of journal | Year of publication | List of authors |
| --- | --- | --- | --- |
| Barriers to the uptake of cataract surgery in a rural population of South Karnataka, India. | Int J Cur Res Rev. | 2013 | Guruprasad S. Bettadapura, Narendra P. Datti, Krishnamurthy Donthi, Ranganath B.G., Shamanna B. Ramaswamy, Sangeetha T. |
| Study of visual outcome and postoperative complications in scleral fixated posterior chamber intraocular lens implantation. | Int J Cur Res Rev. | 2014 | Sangeetha T, Narendra P. Datti. |
| Comparison of fibrin glue and sutures for attaching limbal conjunctival autograft after pterygium excision. | International Journal of Current Research. | 2017 | Prashanth B, Narendra P Datti, Kanthamani, Sangeetha. T, Shrey Maheshwari, Bhavya Reddy and Dildar Singh. |
| Prevalence and Pattern of Refractive Errors in School Children (Aged 5-15 Years) of Kolar City. | International Journal of Research in Engineering, Science and Management. | 2018 | S. M. Darshan, T. Sangeetha, K. Kanthamani, Borra Harish Laxman. |
| Visual Outcome and Complications after Phacoemulsification in Cataract Patients Associated with Pseudoexfoliation. | International Journal of Research in Engineering, Science and Management. | 2018 | T. Sangeetha, K. Kanthamani, Borra Harish Laxman, Chirra Reddy Gari Meghana. |
| Clinical profile, visual outcome and complications after cataract surgery in patients with lens induced glaucoma. | Indian Journal of Clinical and Experimental Ophthalmology. | 2018 | Sangeetha. T, Kanthamani K, Darshan SM, Chirra Reddy Gari Meghana, Borra H. L. |
| Outcomes after posterior fixation of iris ‐ claw lens in aphakic eyes. | Indian Journal of Clinical and Experimental Ophthalmology. | 2018 | Sangeetha, Kanthamani, Borra Harish Laxman, Chirra Reddy Gari Meghana. |
| Comparison of accuracy of haigis and SRK II formula for intraocular lens power calculation in eyes with short axial length. | Indian Journal of Clinical and Experimental Ophthalmology. | 2019 | Mohan Kumar H, Sangeetha T, Kanthamani, Nithiya Joe Babu. |
| Prevalence of computer vision syndrome among computer users of Kolar district. | Indian Journal of Clinical and Experimental Ophthalmology. | 2019 | Darshan. S.M, Sangeetha. T, Mohan Kumar H. |
| Impact of N 95 masks on quality of vision in spectacle users. | Indian Journal of Applied research. | 2022 | Arora D, Sandhya R, Sangeetha T. |
| Clinical Experience with Intraoperative Floppy Iris Syndrome. | Indian Journal of Applied research. | 2022 | Malani V, Sangeetha T, Arora D, Lekshmy. M S. |
| Clinical Profile of Ocular Chemical Injuries in a Tertiary Care Centre of Kolar, Karnataka, India: A Retrospective Study. | J Clin Diagnostic Res. | 2023 | Poojitha Madala, T Sangeetha, S KruthiKa. |
| Evaluation of tear function and ocular surface changes in patients with pseudoexfoliation. | Indian J Clin Exp Ophthalmol | 2023 | Kushwah S, Thamodharan S, Manjula T R, Raju K. |