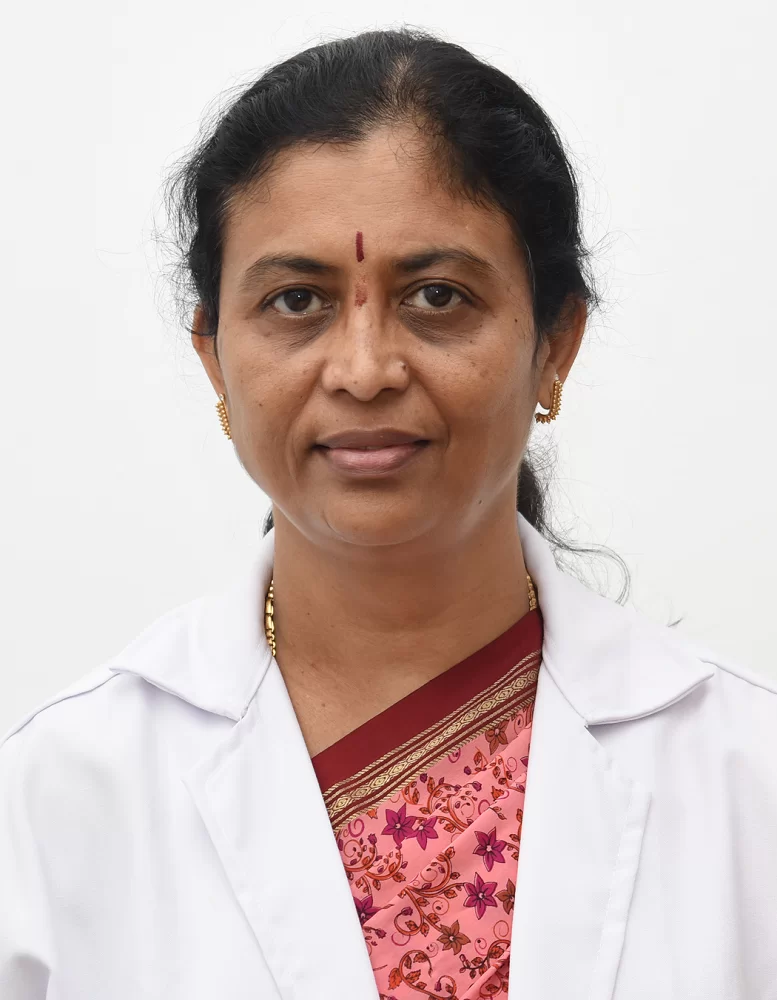 Dr Kalyani R
Professor and Former HOD
Academic Qualifications: MBBS, MD
| SL NO | Degree | Specialization | Institute | Year of passing |
| --- | --- | --- | --- | --- |
| 1 | MBBS | - | M R Medical College, Gulbarga | 1990 |
| 2 | MD | Pathology | Bangalore Medical College | 1996 |
| 3 | PhD | Pathology | Sri Devaraj Urs Medical College, Kolar | 2022 |
Additional qualifications / training
FICP (Path), FAMS, FIAMS, FIMSA, FKSTA, MNAMS.
Empanelled Assessor: For NABL and NAAC
EXPERIENCE
| Institution / Organisation | Designation | Role | From | To |
| --- | --- | --- | --- | --- |
| Sri Devaraj Urs Medical College, Kolar | Tutor | Teaching | 15th May 1992 | 3rd July 1993 |
| Bangalore Medical College, Bangalore. | Resident / PG | Teaching | 5th July 1993 | 4th Sept 1995 |
| Sri Devaraj Urs Medical College, Kolar | Senior Resident | Teaching | 7th Sept 1995 | 31st May 1996 |
| " " | Lecturer | Teaching | 1st June 1996 | 31st May 1999 |
| " " | Assistant Professor | Teaching, Research | 1st June 1999 | 31st May 2001 |
| " " | Associate Professor | Teaching, Research, Administration | 1st June 2001 | 31st May 2005 |
| ESIC Medical College, Bangalore | Associate Professor | Teaching, Research | 5th April 2013 | 20th June 2014 |
| Sri Devaraj Urs Medical College, Kolar | Professor | Teaching, Research, Administration | 1st June 2005 | 4th April 2013 |
| MVJ Medical College & Research Hospital, Bangalore | Professor | Teaching, Research, Administration | 23rd June 2014 | 4th March 2016 |
| Sri Devaraj Urs Medical College, Kolar | Professor | Teaching, Research, Administration | 11th March 2016 | 31st August 2018 |
| Sri Devaraj Urs Medical College, Kolar | Professor and Head | Teaching, Research, Administration | 1st September 2018 | 9th October 2023 |
| Sri Devaraj Urs Medical College, Kolar | Professor and Former Head. Director of Research & Development, SDUAHER | Teaching, Research, Administration | 10th October 2023 | Till date |
CURRENT ACADEMIC ROLE & RESPONSIBILITIES
Teaching Pathology to undergraduates (MBBS) and MD postgraduates.
Recognized postgraduate guide and co-guide
Recognized PhD supervisor and taking classes for PhD scholars
Undertake research projects and publish scientific articles.
Diagnostic work in Pathology in CDLS for patient care
Editor – in –Chief for Journal of Clinical and Biomedical Sciences, an in house, quarterly, peer reviewed , indexed scientific journal
Director of Research and Development, SDUAHER.
RESEARCH
| Name of project | List of researchers | ongoing / completed | Funded / Non funded | Funding agency | Funds sanctioned |
| --- | --- | --- | --- | --- | --- |
| - | - | - | - | - | - |
AREAS OF INTEREST, EXPERTISE AND RESEARCH
Cervical cancer screening and Diagnosis
Cancer of female genital tract
Breast cancer
Cytology
Autopsy, Fetal autopsy
PUBLICATIONS
| S.No. | Title of article | Name of journal | Year of publica tion | List of authors |
| --- | --- | --- | --- | --- |
| 1 | Multiple Primary Malignancies: synchronous and metachronous presentation | .Indian J Pathol Microbiol 2003; 46( 3): 470 – 72. | 2003 | Kalyani R, KM Prathima, ML Kumar, SH Srikantia |
| 2 | Unusual case of Tuberculosis Presenting as ITP | Indian J. Hemat & Blood Transf 2003;XXI(4) : 155-6 | 2003 | Kalyani R, Prathima. KM, Harendra Kumar ML, Srikantia SH |
| 3 | Primary Adenocarcinoma of fallopian tube – a case report | Indian J Pathol Microbiol 2005 ; 48( 2): 219 – 21. | 2005 | Kalyani R, Kumar ML Harendra, Srikantia. SH |
| 4 | Colonic cancer in Young Adults – a report of two cases | Indian J Pathol Microbiol 2006; 49 (4): 501 –2 | 2006 | Kalyani R, Prathima. KM, Rupnarayan. R, Srikantia. SH |
| 5 | Plasma cell leukemia presenting as acute renal failure – A case report | Indian J pathol microbiol 2007 ; 50( 1): 86-8 | 2007 | Kalyani R, Kumar. ML |
| 6 | A varied presentation of hydatid cyst – A report of 4 cases with review of literature | Indian J Pathol Microbiol 2007; 50( 3): 550 – 2. | 2007 | Subhahish Das, Kalyani R, Udaya Kumar, Harendra Kumar. M. L |
| 7 | Factors influencing quality of semen: A two year prospective study | Indian J Pathol Microbiol 2007; 50(4): 890– 895. | 2007 | Kalyani R, Basavaraj. PB, Kumar. ML |
| 8 | Sclerosing mucoepidermoid carcinoma with eosinophilia of the thyroid. | Indian J Pathol Microbiol 2008;51(1):34-6. | 2008 | S. Das, R Kalyani |
| 9 | Ovarian pregnanacy | Indian J Pathol Microbiol 2008;51(1):37-8 | 2008 | S. Das, R Kalyani, V Lakshmi, ML Harendra Kumar |
| 10 | Hemophagocytic syndrome | Indian J Pathol Microbiol 2008;51(1):125- 6. | 2008 | Das S, Kalyani R |
| 11 | Vulval Schwannoma – A cytological Diagnosis. | J Cytol 2008;25(3):108- 110 | 2008 | Das S, Kalyani R, Harendra Kumar ML |
| 12 | Cytodiagnosis of tumoral calcinosis | J Cytol 2008;25(4): 160 - 161 | 2008 | Subhashish Das, Kalyani R, Harendra Kumar ML |
| 13 | Multicystic Nephroma – A case Report | Indian Medical Gazette 2008;CXLII(2):7 6-77. | 2008 | Subhahish Das, Kalyani.R |
| 14 | Eosinophilis and oral cancers | Indian Medical Gazette 2008;CXLII(9):3 48-353. | 2008 | Subhashish Das, Kalyani R, Harendra Kumar |
| 15 | Malignant peripheral nerve sheet tumour with divergent differention | Indian J Pathol Microbiol 2009; 52(1): 74-6. | 2009 | Suresh TN, Harendra Kumar ML, Prasad CSBR, Kalyani R, Borappa K. |
| 16 | Adenomatoid tumours: Cytological diagnosis of two cases. | J Cytol 2009; 26(1): 30-32 | 2009 | Kalyani R, Subhahish Das. |
| 17 | Pediatric renal autopsies – A report of 3 cases | Indian Medical Gazette 2009; CXLIII(1):33-35 | 2009 | Subhashish Das, Kalyani R, Harendra Kumar ML |
| 18 | Medullary Thyroid carcinoma with Melanin Production – A case report. | Indian Medical Gazette 2009; CXLIII(3): 116 – 118. | 2009 | Subhashish Das, Kalyani R, Harendra Kumar ML |
| 19 | Significance of AGNOR evaluation in oral carcinoma – A morphometric study | Indian Medical Gazette 2009; CXLIII(6): 221-225 | 2009 | Subhashish Das, Kalyani R, Harendra Kumar M L |
| 20 | Meckle Gruber Syndrome – A case report. | Indian Medical Gazette 2009;CXLIII(8): 330-332. | 2009 | Kalyani R, Mandeep Singh Bindra, Subhashish Das, Hemalatha Mahansetty |
| 21 | Primary actinomycosis of breast – a case report | Indian Medical Gazette 2009;CXLIII(12): 477-479 | 2009 | Vidyavathi K, Kalyani R, Harendra Kumar ML |
| 22 | Cancer profile in the Department of Pathology, Sri Devaraj Urs Medical College, Kolar: A ten year study | Indian J Cancer 2010;47(2): 160- 5. | 2010 | Kalyani R, Das S, Bindra Singh MS, Kumar HML |
| 23 | Pattern of Cancer in Adolescent and Young adults – A ten Year Study in India | Asian Pacific J Cancer Prev 2010;11:1-6 | 2010 | Kalyani R, Subhahish Das, Harendra Kumar ML |
| 24 | Retroperitoneal cystic schwanomma: A case report with review of literature | J Cytol 2010;27(4):136- 139. | 2010 | Aparna Narashimhan, Harendra Kumar ML, Kalyani R, Madan M |
| 25 | Mucinous carcinoma of the male breast | J Can Res Ther 2010;6(4):590-1. | 2010 | Das S, Kalyani P |
| 26 | Spectrum of gastrointestinal cancers – A ten year study | J Indian Med Assoc 2010;108(10):659 -62 | 2010 | Kalyani R, Das S, Kumar HML |
| 27 | Aggressive granulosa cell tumour – A case report with imprint cytology | Indian medical gazette 2010;CXLIV(11): 451-453. | 2010 | Subhashish Das, Kalyani R |
| 28 | Spectrum of childhood malignancies in Kolar district – A ten year study | Indian Mediacl Gazette 2010;CXLIV(12): 457-462. | 2011 | Subhahish Das, Kalyani R, Harendra Kumar ML |
| 29 | Primary Adenocarcinoma of the Fallopian Tube. Journal of South Asian Federation of Obstetrics and Gynecology | Journal of South Asian Federation of Obstetrics and Gynecology 2011;3(1):53-54. | 2011 | Narayanaswamy M, Manjunath RL, Udaya Kumar M, Kalyani R, Avinash Patil, Shobitha Jain |
| 30 | Single dominant left coronary artery: An Autopsy case report with review of literature | J Cardiovasc Dis Res 2011;2(2) :130-132 | 2011 | R Kalyani, M J Thej, K Prabhakar, J Kiran |
| 31 | Primary tuberculous parotitis | J Cytol 2011;28 (3):144-5. | 2011 | Gayathri BN, Kalyani R, Manjula K |
| 32 | Accelerated atherosclerosis in a human immunodeficiency virus active anti-retroviral therapy: An autopsy case report. infected patient not on highly | J Cardiovasc Dis Res 2011;2(4) :241-243 | 2011 | R. Kalyani, MJ Thej, K Prabhakar, J Kiran |
| 33 | An unusual histomorphological presentation of fibroadenoma | Indian J Cancer 2011;48(3):376- 377 | 2011 | Nagaraj GB, Kalyani R, Kumar MLH, Bhaskaran A |
| 34 | Fine needle aspiration cytology of Hashimoto's thyroiditis – A diagnostic pitfall with review of literature. | J Cytol 2011;28 (4):210-213 | 2011 | Gayathri BN, Kalyani R, Harendra Kumar ML, Krishna Prasad K |
| 35 | Squamous cell carcinoma arising in mature cystic teratoma of ovary: A case report. Journal of South Asian Federation of Obstetrics and Gynecology | Journal of South Asian Federation of Obstetrics and Gynecology 2011; 3(3): 135- 137. | 2011 | Gayathri BN, Kalyani R, Vidyavathi K. |
| 36 | A rare primary malignant hydatid cyst of spleen. | J Clin Biomed Sci 2011;1(1):20- 24 | 2011 | Bhaskaran A, Kalyani R, Umesh K, Jyothindra singh, Praveen V, Anantha Raju GS |
| 37 | Right coronary artery originating from left circumflex artery: An unusual coronary anomaly at autopsy | J Clin Biomed Sci 2011;1(2):77- 80. | 2011 | Kalyani R, Thej MJ, Prabhakar K, Kiran J. |
| 38 | Anterior abdominal wall leiomyoma without antecedent pelvic surgery mimicking an ovarian tumour | J Clin Biomed Sci 2011;1(2):74- 76. | 2011 | Narayanaswamy M, Bhaskaran A, Kalyani R, Yamini Agarwal. |
| 39 | Publish or perish (Editorial). | Journal of clinical and biomedical sciences 2011;1 (3):89-91. | 2011 | Kalyani. R |
| 40 | Primary giant splenic hydatidosis | Indian Medical Gazette 2011; CXLV(7): 286 – 288 | 2011 | Prathima S, Kalyani R, Udayakumar M, Bhaskaran A |
| 41 | Cytological diagnosis of tuberculous cervicitis: A case report with review of literature. | J Cytol 2012; 29(1): 86-88 | 2012 | R Kalyani, SR Sheela, M Rajini |
| 42 | Twin reversed arterial perfusion (TRAP) sequence: (Acardius Amorphous) a case report and review of literature | Int J Bio Med Res 2012; 3(1): 1453- 1455 | 2012 | Shashidhar B, BN Kishore Kumar, SR Sheela, R Kalyani, N Anitha Prem Sai Reddy |
| 43 | Atherosclerosis and myocardial bridging: Not a benign combination. An Autopsy case report | J Cardiovasc Dis Res 2012; 3(2): 176-178 | 2012 | MJ Thej, R Kalyani, J Kiarn |
| 44 | Chronic Cold Agglutinin Disease:A case Report with Review of literature | Journal of Clinical and Diagnostic Research 2012 (S-1);6(3):480- 482. | 2012 | R Kalyani, MJ Thej, AK Thomas, A Raveesha |
| 45 | Atherosclerosis in coronary artery and aorta in a semi – urban population by applying modified American Heart Association classification of atherosclerosis: An autopsy Study | J Cardiovasc Dis Res 2012;3(4) :265-271. | 2012 | Mothakapalli Jagadish Thej, Raju Kalyani, Jayaramaiah Kiran. |
| 46 | Morphometric analysis of tricuspid valve: An Indian perspective | J Nat Sci Biol Med 2012;3(2) :147-151. | 2012 | R Kalyani, M J Thej, K Prabhakar, T K Venkatesh, A K Thomas, J Kiran. |
| 47 | Pit falls in diagnosing specific subtypes of carcinoma breast on fine needle aspiration cytology: a report of two cases with review of literature. | J Can Res Ther 2012;8(2):454- 456 | 2012 | Anantharamaiah H, Raju K, Suresh SP, Manikyam UK |
| 48 | Revive Autopsy | J Clin Biomed Sci 2012;2(1):1- 4. | 2012 | Kalyani. R |
| 49 | Is Being Tall Cardioprotective? Correlation Between Height And Athersclerosis. An Autopsy Study | J Clin Biomed Sci 2012;2(1):31- 39 | 2012 | Thej MJ, Kalyani R, Kiran J |
| 50 | Significance of micronucleas in cervical intraepithelial lesions and carcinoma. | . J Cytol 2012; 29 (4): 236 – 240 | 2012 | Gayathri BN, Kalyani R, Hemalatha A, Vasavi B |
| 51 | Secondary chondrosarcoma of the lumbosacral region: Are any bones spared in the multiple hereditary exostosis? | Journal of clinical and diagnostic research 2012; 6(10):1778 – 1780. | 2012 | Hemalatha A, Kalyani R, Harendra Kumar ML, Manohar PV. |
| 52 | Recurrent laryngeal leiomyoma | Journal of laryngology and voice 2012;2(2) :35-37 | 2012 | Suresh SP, Raju K, Nagaraju GB, Azeem Mohiyuddin SM, Shuaib M. |
| 53 | Primary testicular lymphoma with rupture: An unusual presentation. | J Nat Sci Biol Med 2013; 4(1): 232-235. | 2013 | Vidyavathi K, Kalyani Prabhakar, Harendra Kumar ML |
| 54 | Scar endometriosis presenting as chronic lower abdominal pain: A surgeon's perspective | J Clin Biomed Sci 2012; 2(4): 192-195. | 2012 | Bhaskaran K, Ambikavathy M, Kalyani R |
| 55 | Breast carcinoma aspirates: A study on cytological grading. | International Journal of Basic and Applied Medical Sciences 2012; 2(2): 189- 195 | 2012 | Subhashish Das, Kalyani, Harendra Kumar |
| 56 | Congenital malformation in perinatal autopsy: a two year prospective study. | J Indian Med Asso 2013;111 :89-93 | 2013 | R Kalyani, Mandeep S Bindra, Hemalatha Mahansetty |
| 57 | "Extraovarian Papillary Serous Carcinoma of the Peritoneum: A Report of two Cases with Review of Literature" | Journal of South Asian Federation of Obstetrics and Gynaecology 2013; 5(1) :42- 44. | 2013 | R Kalyani, Aparna Narashimhan, ML Harendra Kumar, S Narayanaswamy. |
| 58 | Giant Chondroid Syringoma with Divergent Differentiation – Cyto- Histo-Immuno correlation | International Journal of Applied Basic Medical Research 2013; 3(2):129- 131. | 2013 | Kalyani R, Aparna Narashima, Harendra Kumar ML, Narayanaswamy M. |
| 59 | Significance of Blood Group and Social Factors in Carcinoma Cervix in a Semi-Urban Population in India | Asian Pac J Cancer Prev 2013; 14 (8): 4811-4814 | 2013 | Lee Jun Kai, Kalyani Raju, Harendra Kumar Malligere Lingaiah, Narayanaswamy Mariyappa |
| 60 | Cartilagenous Choristoma of Tonsil: A hidden Clinical entity | Journal of Oral and Maxillofacial Pathology 2013; 17(2): 292-293 | 2013 | Kannar V, Prabhakar K, Shalini SS |
| 61 | Vascular malformations of the parotid region – Review of literature and case report | IJBAR 2013; 4(7): 491-493. | 2013 | K Mohan Kumar, Azeem, K Nischal, N Prathiba, Kalyani R. |
| 62 | Twin Reversed Arterial Perfusion Syndrome (TRAP or Acardiac twin)- A case report. | Journal of Clinical and Diagnostic Research 2014; 8(1): 166-167. | 2014 | Kalyani R, Mandeep S Bindra |
| 63 | Sinonasal Carcinoma: a report of two cases. | Journal of Clinical and Diagnostic Research 2014; 8(2): 149-150 | 2014 | Kalyani R, Aparna Narashima, Shiva Prakash |
| 64 | Primary Tubercular Mastitis Masquerading as Malignancy. | Journal of natural Science, Biology and Medicine 2014; 5(1): 184- 186 | 2014 | Prathima S, Kalyani R, Parimala S |
| 65 | Pigmented basal cell carcinoma of nipple and areola; A case report with review of literature | International Journal of Biomedical Sciences 2014; 10(1): 69-72. | 2014 | Kalyani R, Vani BR, Srinivas Murthy V, Veda P |
| 66 | Vulval fibroadenoma: A report of two cases with review of literature | Int J Biomed Sci 2014; 10(2): 143- 145 | 2014 | Kalyani R, Murthy VS, Veda P |
| 67 | Clinicopathological Correlation Of Cervical Carcinoma: A Tertiary Hospital Based Study | Asian Pac J Cancer Prev 2014; 15 (4): 1671-1674. | 2014 | Pannayanapalya Suresh Shruthi, Raju Kalyani, Lee Jun Kai, Mariyappa Narayanaswamy |
| 68 | Significance of the Plasma Lipid Profile in Cases of Carcinoma of Cervix: A Tertiary Hospital Based Study. | Asian Pac J Cancer Prev 2014; 15(8): 3779-3784 | 2014 | Kalyani Raju, Shruthi Suresh Punnayanapalya, Narayanaswamy Mariyappa, Sumathi. Mayagondanahalli Eshwarappa, Chandramouli. Anjaneya, Lee Jun Kai |
| 69 | Fine needle aspiration findings in epitheliod myoepithelioma of the parotid gland: A diagnostic pitfall. | Journal of Oral and Maxillofacial Pathology 2014; 18(1): 131-133. | 2014 | BN Gayathri, R Kalyani, ML Harendra Kumar, SM Azeem Mohiyuddin |
| 70 | Congenital uterine anomaly: an incidental diagnosis – Report of two interesting cases | J Clin Case Rep 2013; 4(2): 329. Doi: 10.4172 /2165-7920 1000329. | 2013 | Gayathri BN, Kalyani R, Narayana SM, Udaya KM |
| 71 | Study of Atherosclerosis in rural India using modified American Heart Association Classification with specific reference to young adults. | National Journal of Basic Medical Sciences 2014; 4(3): 163-168 | 2014 | Kalyani R, MJ Thej. Kiran J |
| 72 | Malignant Adenomyoepithelioma of breast masquerading as soft tissue lytic lesion of right iliac bone: A rare entity | Journal of Clinical and Diagnostic Research 2014; 8(9): 3-4. | 2014 | Kalyani R, Srinivas Murthy V |
| 73 | Multiple Hereditary Exostoses in a Family for Three Generation of Indian Origin with Review of Literature. | Journal of Clinical and Diagnostic Research 2014; 8(10): 1-3. | 2014 | Kalyani R, Prabhakar K, Gopinath B, Sheik Naseer B, Krishnamurthy DS |
| 74 | Castleman's Disease of the mesocolon: A rare case report | Biomedical Research and Therapy 2014; 1(3): 93-97. | 2014 | Mythri Mahesh Boovalli, Kalyani Raju, Srinivas Murthy Venkataramappa |
| 75 | Calretinin negative Paratesticular mesothelioma: a rare case report | Biomedical Research and Therapy 2014; 1(4): 106-111. | 2014 | Ankitha Hebbar, Kalyani Raju, Srinivas Murthy Venkataramappa |
| 76 | Multinucleated giant cells in FNAC of benign breast lesions: Its significance. | Journal of clinical and diagnostic research 2014; 8(12): FC01- FC04. | 2014 | Seema V, Kalyani R, Srinivas Murthy V. |
| 77 | A rare collision tumour of Infiltrating ductal carcinoma and Squamous cell carcinoma of skin overlying breast: A case report | Journal of clinical and diagnostic research 2015; 9(1):XD06- XD08. | 2015 | Geetha R L, Kalyani R, Srinivas Murthy V, Shakthidasan Chinnathambi |
| 78 | An Unusual Location of Epidermoid Cyst in Mesentry: Case Report with a Review of Literature | Sch J App Med Sci 2014; 2(6F): 3290-3292. | 2014 | Shilpa MD, Kalyani R, Shameem Shariff , Sneha Burela |
| 79 | A Comparative Evaluation of the Three Different Methods of Endometrial Sampling in the Diagnosis of Perimenopausal Bleeding. | J Clin Gynecol Obstet.2014;3(4): 133-137. | 2014 | Pooja Patil, Sunita Venigalla, Malligere Lingaiah Harendra Kumar, Kalyani Raju |
| 80 | Wilson's disease: A Clinical Autopsy Case Report with Review of Literature. | Journal of Natural Science,Biology and Medicine 2015; 6(1): 248- 252. | 2015 | Kalyani R, Gayathri BN, Suresh TN, Venkatarathanamma PN |
| 81 | Virus and Cervical Cancer: Role and implication: A Review | Biomedical Research and Therapy 2015; 2(3):220-230. | 2015 | Kalyani Raju. |
| 82 | Enterobius vermicularis infestation masquerading as cervical carcinoma: a cytological diagnosis | Journal of Natural Science, Biology and Medicine 2015; 6(2): 476- 9. | 2015 | Kalyani R, Seema V, Srinivas Murthy V |
| 83 | Primary Papillary Carcinoma Arising In Thyroglossal Duct Cyst: A Rare Case Report. | National Journal of laboratoty Medicine 2015; 4(3): 27-29. | 2015 | Kalyani R, Ankitha Hebbar, Srinivas Murthy V |
| 84 | Significance of p53, pRb and Ki- 67 markers in Cervical intraepithelial lesion and Malignancy. | Biomedical Research and Therapy 2015, 2(10): 374-384. | 2015 | Kalyani Raju, Shruthi Suresh Punnayanapalya, Narayanaswamy Mariyappa |
| 85 | Primary hemochromatosis presenting as Type 2 Diabetes Mellitus: A Case report with review of literature | International Journal of Applied and Basic Medical Research 2018; 8(1): 57-60. | 2018 | Kalyani R, Srinivas Murthy V |
| 86 | Significance of mast cells in non- neoplastic and neoplastic lesions of uterine cervix. | Biomedical Research and Therapy 2016; 3(1): 469-475 | 2016 | Kalyani R, Rajeshwari G. |
| 87 | Evolution of Pap stain | Biomedical Research and Therapy 2016; 3(2): 490-500. | 2016 | Kalyani R |
| 88 | Sirenomelia – Apus: A case report and review of literature | National Journal of laboratory Medicine 2016; 5(3): PC01-PC03. | 2016 | Kalyani Raju |
| 89 | A study of Pap smear in a tertiary hospital of South India. | Journal of cancer biology and research 2016; 4(3): 1084 | 2016 | Kalyani R, Najmunnisa Sharief, Shameem Shariff |
| 90 | Pit falls in fine needle aspiration cytology diagnosis of hyalinising trabecular tumour – A report of two cases with review of literature | Biomed Res Ther 2016; 3(11): 942- 950. | 2016 | Kalyani Raju, Sweta Sinha |
| 91 | Molluscum Contagiosum of Cervix – A Case Report | Journal of Clinical and Diagnostic Research 2017; 11(1): ED03- ED04. | 2017 | Ankita Bagel, Kalyani Raju, Munikrishna Munisamaiah, Bachu Narayanaswamy Raghavendra Prasad. |
| 92 | Significance of grading adenomyosis in hysterectomy specimens: A two year study. | International Journal of Scientific Research 2017; 6(7): 80-82. | 2017 | Shilpa MD, Kalyani R, Manan Shah Bharatumar |
| 93 | Kimura,s Disease presenting as a Post Cricoid Mass – A Diagnostic Challenge. | Otorhynology 2017; 7(5). DOI:: 10.4172/2161- 119X.1000321 | 2017 | Mohiyuddin SMA, Raju K, Sumanth KR, Karunasagar A, Maruvala S, Chaudhary S, Thomas L. |
| 94 | Maximum surgical blood ordering schedule: an institutional Study. | European Journal of Biomedical and Pharmaceutical Sciences 2017; 4(10): 249-255 | 2017 | Subhashish Das, Kalyani R |
| 95 | A five years analysis of sudden death cases at R L Jalappa Hospital & Research Centre – A Postmortem study | Journal of Clinical and Diagnostic Research 2018; 12(3): EC06- EC09. | 2018 | Hajra Mehendi, Kalyani Raju, Raghuveer C V |
| 96 | Fibrosarcoma of Mandible Presenting as Secondary Primary Tumour – A Cytological Diagnosis | Biomed Res Ther 2018; 5(5): 2326- 2331. | 2018 | Manna Sulagna, Raju Kalyani, Mohiyuddin Azeem |
| 97 | Primary Squamous Cell Carcinoma of Renal Pelvis Associated with Staghorn Calculi Masquerading as Xanthogranulomatous Pyelonephritis | National Journal of Laboratory Medicine 2018; 7(3): PC04-PC06. | 2018 | Shilpa MD, Kalyani R, Sreeramulu PN, GN Manjunath |
| 98 | Hemangioma of cervix – A case report | Journal of Clinical and Diagnostic Research 2018: 12(10); ED04-05. | 2018 | Manan S, Kalyani R |
| 99 | Revisiting Prostate Biopsy with 2014 ISUP Modified Gleason Score and Gleason Grade — A Cross Section Study. | Biomed. Res. Ther.2018; 5(12): 2918-2925. | 2018 | Shah M B, Raju K, Kumar G H |
| 100 | Competency Based Medical Education. | J Neo Res Pedia Care 2019; 2(1): 180010. | 2019 | Raghuveer CV, Kalyani R, Sudha Shivaraj |
| 101 | Haemangioma of the Base of the Tongue: A Case Report | National Journal of Laboratory Medicine. 2019; 8(1): PC05- PC07. | 2019 | Hajra K Mehdi, Kalyani Raju, CSBR Prasad, Prashant N Murthy |
| 102 | Study of Incidental Histopathological Findings in Medico-Legal Autopsies. | Indian J Forensic Med Pathol 2019; 12(1): 5-8 | 2019 | Manjula K, Srinivas Reddy P, Kalyani R |
| 103 | Cytological Diagnosis of Multilocular Ameloblastoma of Mandible: A Case Report | Annals of pathology and Laboratory Medicine 2019; 6(2): C-12 – C- 15. | 2019 | Pradeep Mitra V, Kalyani Raju, Prashant S Murthy |
| 104 | Significance of Morphometric Evaluation of Pre-Malignant and Malignant Lesions of Uterine Cervix: A Cross-sectional Analytical Study | Journal of Clinical and Diagnostic Research. 2019; 13(4): EC05- EC07 | 2019 | Hajra K Mehdi, Kalyani Raju, SR Sheela |
| 105 | Cytology histology correlation of gynecology and non-gynecology samples at a tertiary health care center – A two year study. | Biomedical Research and Therapy 2019; 6(4): 3096-3106. | 2019 | Kalyani Raju, Supreetha Megalamane Sunanda, Varsha Shree Rajanna |
| 106 | Pitfalls in fine-needle aspiration cytology diagnosis of ductal carcinoma in a lactating breast | Int J App Basic Med Res 2019; 9(2): 107-10 | 2019 | Mehdi HK, Raju K, Prasad CS, Shah MB |
| 107 | Significance of Copper, Zinc, Selenium and Fluoride in Squamous Cell Carcinoma of Cervix- A Pilot Study | Journal of Clinical and Diagnostic Research 2019; 13(5): EC17- EC20 | 2019 | GS Meghana, R Kalyani, ME Sumathi, SR Sheela. |
| 108 | Vaginal Rhabdomyoma: A Rare Occurrence | Journal of Clinical and Diagnostic Research. 2019 Nov, Vol-13(11): ED04-ED05 | 2019 | Varsha Shree Rajanna, Kalyani Raju, Gomathi Ethiraj, Hajra Khursheed Mehdi. |
| 109 | Clinicopathological correlation of invasive squamous cell carcinoma of uterine cervix: A cross-sectional study. | Biomedical Research and Therapy 2019; 6(11): 3443- 3451. | 2019 | Kalyani Raju, Raghuveer CV, Sheela SR. |
| 110 | Ethics in Medical Profession | Journal of Clinical and Biomedical Sciences 2018; 8(1): 1-4. | 2018 | Kalyani R. |
| 111 | Ovarian Tuberculosis masquerading as malignancy - Case report of 2 cases with review of literature | Journal of Clinical and Biomedical Sciences 2018; 8 (3): 99 – 102. | 2019 | Shilpa M D, T N Suresh, Kalyani R |
| 112 | Platelet Transfusion Practice in Dengue Epidemic; Current Trends and Challenges – an Institutional Study | J Blood Lymph 2019; 9(4): 255. | 2019 | Soumya MH, Das S, Kalyani R |
| 113 | Outcome of Treatment in Locally Advanced Upper Alveolar Carcinoma Extending to Infra- temporal Fossa | Indian J Otolaryngol Head Neck Surg 2022; 74: 136–141. DOI: 10.1007/s12070- 020-01810-3. | 2022 | Brindha HS, Azeem Mohiyuddin sm, Sagayaraj A, Mohammadi K, Kalyani R, Harshitha N, Pillai DAR, Ravishankar S. |
| 114 | Spectrum of lesions in urinary bladder biopsies: A histopathological study. | International Journal of Clinical and Diagnostic Pathology 2020; 3(1): 302-304. | 2020 | Manjula K, Kalyani R, Harish Kumar |
| 115 | A comparative study of three scoring systems on palpable breast aspirates at a tertiary health-care center: A cross-sectional study | J Nat Sc Biol Med 2020;11:21- 6. | 2020 | Kalyani Raju, Varsha Shree Rajanna |
| 116 | Liquid Biopsy: An emerging concept for diagnosis and management of Cancer. | J Clin Biomed Sci 2019; 9(4):91-96. | 2019 | Kalyani R. |
| 117 | Recurrent cystadenocarcinoma of parotid: not always an indolent tumor | J Clin Biomed 9(4):125-127. Sci 2019; | 2019 | Manjula K, Kalyani R, Azeem Mohiyuddin SM |
| 118 | Acute Endometritis with Adenomyosis of Uterus – A rare case report. | National Journal of Laboratory Medicine 2020; 9(2): PC01-PC03. | 2020 | Shilpa MD, Kalyani Raju, Gomathy, Preethi Utnal |
| 119 | Cervical cytochemistry: a potential adjunct to cytomorphology for detection of abnormal cells in cervical cancer screening. | Journal of Pathology of Nepal (2020) Vol. 10, 1639 – 1644. | 2020 | Indrani Krishnappa, Kalyani R, Raja Parthiban, Abhishek Agrawal |
| 120 | Blood Donor Deferral Pattern in Rural Teaching Hospital: An Institutional Study | J Blood Disord Transfus 2020; 11(2): 433. DOI: 10.35248/2155- 9864.19.11.433. | 2020 | Gaurav Khichariya, Subhashish Das, R Kalyani, P N Sreeramulu, K Manjula1Das |
| 121 | Prognostic value of pre-treatment routine hematological parameters in breast carcinoma: Advantageous or deleterious?. | Biomed Res Ther 2020; 7(8): 3916- 3920. | 2020 | Shilpa M D, Kalyani R, Sreeramulu P N |
| 122 | Expression of P16 biomarker in squamous cell carcinoma of uterine cervix and its association with clinico-pathological parameters: A cross-sectional study. | Biomedical Research and Therapy 2020; 7(9): 3954-3961 | 2020 | Kalyani R, Raghuveer CV, Sheela SR. |
| 123 | Evaluation of safe blood transfusion practice by assessing haemovigilance among healthcare professionals: An Institutional study. | Baltica Journal 2020; 33(7), | 2020 | Princy Soman, Subhahish Das, Kalyani Raju, P N Sreeramulu |
| 124 | Analysis of Donor Deferral characteristics for plateletpheresis at a Tertiary Care Hospital in India | Baltica Journal 2020; 33(6), | 2020 | Nikil, Subhahish Das, Kalyani Raju, P N Sreeramulu. |
| 125 | Serum fluoride levels as a biomarker in pre-eclamptic women: a case-control tertiary care hospital based study | Fluoride 2020;53 (3 Pt 1):425-35. | 2020 | Changalvala K, Prabhavathi K, Venkateshu KV, SR Sheela SR, Kalyani R, Raghuveer CV, Kiranmayee P. |
| 126 | A Study of Prevalence of HIV And Hepatitis B Among Blood Donors in Tertiary Care Hospital, Kolar, Karnataka. | J Blood Disord Transfus 2020; 11: 443. DOI: 10.35248/2155- 9864.20.11.443. | 2020 | Nalini HS, Manjula K, Reddy PS, Kalyani R. |
| 127 | Comparative Evaluation of Platelet Concentrates from Fresh versus Overnight Stored Blood: An Institutional Study | J Blood Transfusions Dis 2020; 3(2): 158- 164. | 2020 | Das S, Nikhil, Kalyani R. |
| 128 | Synchronous presentation of gastrointestinal stromal tumor of stomach and neuroendocrine tumor of Jejunum as acute intestinal obstruction. | J Clin Biomed Sci 2020; 10(3): 102-105. | 2020 | Manjula K, Kalyani R, Shilpa MD, Mohan Kumar |
| 129 | A study of coagulation profile in patients with cancer in a tertiary care hospital. | J Hematol Clin Res 2021; 5: 001- 003 | 2021 | Khichariya G, Manjula K, Das S, Kalyani R |
| 130 | Metaplastic Carcinoma of Breast: A Study of 3 case series. | J Clin Biomed Sci 2021; 11(1): 39-41 | 2021 | Kalyani R, Varsha Shree Rajanna, Ankit Ananad, Shashirekha CA. |
| 131 | Leptomeningeal metastasis from carcinoma breast: A case of unknown to known. | APALM 2021; 8(1): C-54-57. | 2021 | Princy S Soman, Hemalatha A, Kalyani R, Lakshmaiah V. |
| 132 | Carcinoma Rectum with Prostate and Urinary Bladder metastasis: A rare case report | Journal of Clinical and Diagnostic Research 2021; 15(8); ED-17- ED-19. | 2021 | . Rabbavijaya Sowjanya Lakshmi, Shilpa MD, Kalyani Raju, Aabay K |
| 133 | Burden of vitamin D, vitamin B12 and folic acid deficiencies in an aging, rural Indian community. | Front. Public Health 2021 | https://doi.org/10. 3389/fpubh.2021. 707036 | 2021 | Jonas S Sundarakumar, Shafeeq K Shahul Hameed, SANSCOG study team (BN Gangadhar, Bratati Kahali, Girish N Rao, Kalyani Raju, Naren P Rao, Palanimuthu T Sivakumar, Smitha Karunakaran, Vivek Tiwari) and Vijayalakshmi Ravindranath |
| 134 | Profile of Platelet Parameters in Coronavirus Disease – Positive Cases — An Observational Study | Biomed. Res. Ther 2021; 8(10):4649-4654. | 2021 | Chaudhary N, Raju K, Kamarthi P. |
| 135 | Association of sFlt-1 as a maternal serum biomarker in preeclampsia: A case–control tertiary care hospital-based study | Indian J Med Sci 2021;73:311-6. DOI 10.25259/IJMS_3 54_2020 | 2021 | Changalvala K, Kiranmayee P, Raghuveer CV, Sheela SR, Venkateshu KV, Kalyani R. |
| 136 | Association of IHC p16INK4a expression and ELISA Plasma p16INK4a Protein in Squamous Cell Carcinoma of Uterine Cervix: A Concept of Liquid Biopsy | Journal of Clinical and Diagnostic Research. 2022; 16(3): XC06- XC10. | 2022 | Kalyani Raju, CV Raghuveer, SR Sheela, B Sharath. |
| 137 | Evaluation of enzyme-linked immunosorbent assay plasma p16INK4a protein in squamous cell carcinoma in uterine cervix: A case–control study | J Can Res Ther 2022; 18: 152-7. | 2022 | Raju K, Raghuveer CV, Sheela SR, Natarajan A, Jagadish TV, Sunil BN, B. Sharat |
| 138 | Hepatoblastoma: A Case Report with Review of Literature | J Int Med Sci Acad. 2022; 35(1): 78-80 | 2022 | Prasad PA, Raju K, Prasad CSBR, Narasa Reddy NH |
| 139 | Maternal Serum Soluble Endoglin Levels as a biomarker in Preeclampsia: A Case Control Tertiary Care Hospital Based Study. | A Case Control Tertiary Care Hospital Based Study. Biomed Pharmacol J 2022;15(2). | 2022 | Krishnaveni C, Kiranmayee P, Raghuveer C. V, Sheela S. R, Kalyani R, Venkateshu K. V |
| 140 | Approach for Safe Transfusion Practices during COVID-19 Pandemic: Observation of an Indian Rural Blood Bank | Journal of Clinical and Diagnostic Research. 2022; 16(5): EC27- EC31. | 2022 | Nikhi, Das S, A Hemalatha, R Kalyani |
| 141 | Significance of platelet parameters in squamous cell carcinoma of oral cavity – A case-control study | J Cancer Res Ther. 2022 Jul- Sep;18(4):1036- 1041. doi: 10.4103/jcrt.jcrt_ 786_21 | 2022 | Anand A, Raju K, Azeem Mohiyuddin S M |
| 142 | Diagnostic utility of CK19 and galectin-3 in differentiating papillary thyroid carcinoma from non-neoplastic lesions of thyroid | J Can Res Ther 2022; 18: 644-9. | 2022 | Prasad PA, Raju K |
| 143 | Lymphatic Malformation of Inguinal region in an adult: A Case Report. | J Clin Biomed Sci 2022; 12(2):75-78. | 2022 | Priyanka DVS, Sindhu C, Kalyani R, Abhay K Kattepur |
| 144 | Comparative Assessment of WBC Scatter gram, Histogram and Platelet Indices in COVID-19 and Non COVID-19 Patients: A Cross- sectional Study. | Journal of Clinical and Diagnostic Research 2022; 16(8): EC41- EC46. | 2022 | Nikhil, Subhashish Das, Raju Kalyani |
| 145 | Spectrum of Histo- Morphological Changes in Liver at Autopsy in a Tertiary Health Care Hospital | International Journal of Medical Science and Current Research 2022; 5(5): 71 -76 | 2022 | Shushan Shweta Jayker, Kalyani Raju, Srinivasa Reddy Papireddy |
| 146 | Clinicopathological study of mucormycosis in resected specimens of covid-19 patients: an institutional study. | European journal of pharmaceutical and medical research 2022; 9(10): 452-456. | 2022 | Manjula K, Sowjanya Lakshmi R.V, Azeem Mohiyuddin S.M, Kalyani. R. |
| 147 | Light-Chain Multiple Myeloma Presenting as a Bone Tumor in the Right Knee Joint – a Case Report. | Biomedical Research and Therapy 2022; 9(9): 5272-5277. DOI: 10.15419 /bmrat.v9i9.764 | 2022 | Chaudhary N., Raju K., Shanthappa A. H., Prasad C. R., Agarwal S |
| 148 | Programmed death ligand (PD- L1) expression in invasive squamous cell carcinoma of the uterine cervix: A cross- sectional observational study. | Cancer Res Stat Treat 2022;5:461- 7 | 2022 | Chaudhary N, Raju K, Sheela SR, Sakalecha AK, Manjunath GN. |
| 149 | Expression of epithelial– mesenchymal transition markers in squamous cell carcinoma of the uterine cervix: A cross-sectional study. | Biomed. Res. Ther.;2022; 9(10): 5351-5360. | 2022 | Anand A, Raju K, Rangappa S S, Sakalecha A K. |
| 150 | Association of the International Academy of Cytology category with the Breast Imaging Reporting and Data System score in relation to the diagnostic accuracy for breast lumps. | Biomedical Research and Therapy 2022; 9(10): 5332-5340. | 2022 | Das S., Raju K, Tunuguntla A., Sakalecha A., Nadipanna S. |
| 151 | Post-Covid-19 Invasive Fungal Sinusitis: A Case Series from Southern India. | J Pure Appl Microbiol. 2022; 16(4): 2961-2967. doi:10.22207/JPAM. 16.4.62 | 2022 | Madhavi S. Hullur, R. Bharathi, R. Bindu Madhavi, Arvind Natarajan, H.S. Brindha, S.M. Azeem Mohiyuddin, R. Kalyani, Anil Kumar Sakalecha, Bukke Ravindra Naik, K.N. Shashidhar |
| 152 | Srinivaspura Aging, Neuro Senescence and COGnition (SANSCOG) study: Study protocol | Alzheimer's Dement. 2022; 1– 10. DOI: 10.1002/alz.1272 2. | 2022 | Ravindranath V, SANSCOG Study Team (Kalyani Raju). |
| 153 | A varied presentation of dermal adnexal tumours: An institutional study | Adv Hum Biol 2022; 12:254-9 | 2022 | Sinha S, Das S, Raju K |
| 154 | Quality Audit towards Improvement of Transfusion Services: An Institutional Assessment | Journal of Clinical & Diagnostic Research 2022; 16(12): EC15- EC18. | 2022 | Nikhil, Subhashish Das, R Kalyani |
| 155 | Authors' reply to Bose and Mukhopadhyay, Dash and Deodhar, Chakrabati et al., and Rajkumar | Cancer Res Stat Treat 2022;5:770- 1. DOI: 10.4103/ crst.crst_351_22. | 2022 | Chaudhary N, Raju K, Sheela SR, Sakalecha AK, Manjunath GN |
| 156 | SANSCOG & TLSA Study Teams Vijayalakshmi Ravindranath. Comparison of risk factors for dementia among rural and urban elderly adults-data from two cohort studies in India | Alzheimer's Dement. 2022;1– 7. https://doi.org /10.1002/alz.1271 5. Q1 | 2022 | Abhishek Menesgere, Jonas S Sundarakumar, Shafeeq K Shahul Hameed |
| 157 | Audit of quality indicators of cytology: An institutional study | Adv Hum Biol 2023;13:124-9. | 2023 | Sinha S, Das S, Kalyani R. |
| 158 | Association of Immunohistochemistry Leptin Expression with Plasma ELISA Leptin Levels in Invasive Breast Ductal Carcinoma: A Cross-Sectional Study. | Biomed. Res. Ther.; 2023, 10(3):5596-5608. | 2023 | Yeduguri J R, Raju K, Nadipanna S P |
| 159 | Significance of platelet parameters in invasive squamous cell carcinoma of uterine cervix | Journal of Cancer Research and Therapeutics ():, April 08, 2023. | DOI: 10.4103/ jcrt.jcrt_217_22. | 2023 | Anand A, Raju K |
| 160 | Association of P16, Ki-67, and CD44 expression in high-grade squamous intraepithelial neoplasia and squamous cell carcinoma of the cervix | Journal of Cancer Research and Therapeutics 2023;19(Suppl 1):p S260-S267, | DOI: 10.4103/ jcrt.jcrt_43_21. | 2023 | Mehdi Hajra K, Raju K, Sheela S R. |
| 161 | Immunohistochemical Expression of Alpha Smooth Muscle Actin in Infiltrating Ductal Carcinoma of Breast and its Association with Histopathological and Hormonal Status: A Cross-sectional Study. | Journal of Clinical and Diagnostic Research 2023; 17(4): EC28- EC32. DOI: 10.7860/JCDR/20 23/62952.17791. | 2023 | Vajja Nagaraju, Shilpa Mannigatta Doddagowda, Supreetha Megalamanne Sunanda, Hemalatha Annantharamaiah, Kalyani Raju, Patrapalle Nadipanna Sreeramulu |
| 162 | Covid-19 pandemic impact on medical education: Knowledge, attitudes and practice regarding electronic Learning among medical students. | Indian journal of applied research 2023; 13(04): DOI : 10.36106/ ijar. | 2023 | Shushan Shweta Jayker, Subhashish Das, Kalyani Raju. |
| 163 | Comparison of 7th and 8th American Joint Committee on Cancer Tumor-Node-Metastasis staging in infiltrating ductal carcinoma of the breast: A retrospective study. | J Radiat Cancer Res [Epub ahead of print]. DOI: 10.4103/jrcr.jrcr_ 30_22 | 2023 | Soman PS, Hemalatha A, Nadipanna SP, Raju K |
| 164 | Molecular study and Immunohistochemical expression of EGFR in Triple Negative Breast cancer: An Institutional study. | Journal of Xidian University 2023; 17(5): 535-543. https://doi.org/10. 37896/jxu17.5/05 3. | 2023 | Aiswarya Unnithan, Subhashish Das, Sreeramulu PN, Kalyani R |
| 165 | Significance of Nuclear Morphometry in Breast Lesions: A Cross-Sectional Study. | Cureus 2023; 15(5): e39378. DOI 10.7759/ cureus.39378 | 2023 | Girdhar A, Raju K, P N S. |
| 166 | An analysis of intrauterine foetal demise in a tertiary care hospital. | International Journal of Clinical Obstetrics and Gynaecology 2023; 7(3): 308-313. DOI: https://doi.org/10. 33545/gynae.202 3.v7.i3a.1326 | 2023 | Nandini Bhavanam, Munikrishna Munisamaiah, Kalyani R |
| 167 | Evaluation of phlebotomy quality metrics: An effective tool for quality patient care | Adv Hum Biol 2023;13:S80-4. DOI:10.4103/aih b.aihb_201_22 | 2023 | Unnithan A, Das S, Raju K |
| 168 | Outcome-Based Medical Education Implication and Opportunities for Competency- Based Medical Education in Undergraduate Pathology | Cureus 2023; 15(8): e42801. DOI 10.7759/ cureus.42801 | 2023 | Krishnappa S, Das S, Raju K, |
| 169 | Quality audit of haematology laboratory: Challenges and opportunities. | Adv Hum Biol 2023;13:S75-9. DOI:10.4103/aih b.aihb_197_22 | 2023 | Sudarshan K, Das S, Hemalatha A, Raju K. |
| 170 | Evaluation of breast lesions using diffusion-weighted imaging and dynamic contrast-enhanced MRI with pathological correlation | Journal of Cardiovascular Disease Research 2023; 14(02): 2165-2172. ISSN:0975- 3583,0976-2833 | 2023 | Dr. Praveen Basavaraj Kumbar, 2Dr. Anil Kumar Sakalecha, 3Dr. Kalyani R. |
| 171 | Clinico-radiological and histopathological study of ovarian masses at a tertiary care centre. | Int J Reprod Contracept Obstet Gynecol 2023;12:1631-7. | 2023 | Shravya MK, Rathnamma P, Kalyani R. |
| 172 | Significance of Nuclear Morphometry in Salivary Gland Neoplasms: A Cross-sectional Study | Journal of Clinical and Diagnostic Research 2023; 17(5): EC30- EC33. DOI: 10.7860/JCDR/20 23/62600.18010 | 2023 | Jahnavi Reddy Yeduguri. Kalyani Raju, Azeem SM Mohiyuddin |
| 173 | Thyroid malignancy mimicking as acute thyroiditis: A Pandora's box on cytology. | J Krishna Inst Med Sci Univ 2023; 12(1):122- 125. | 2023 | Vajja N, Doddagowda SM, Kalyani R, Manjunath GN. |
| 174 | Assesment of quality indicators in blood transfusion Services- an institutional study | Journal of Xidian University 2023; 17(7): 1215-1225.DOI:10.37896/jx u17.7/099 | 2023 | Soumya.M.H, Subhashish Das, Kalyani R, Hemalatha. A |
| 175 | Analysis of the Six Sigma Principle in Pre- analytical Quality for Hematological Specimens | Cureus 2023; 15(7): e42434. DOI 10.7759/ cureus.42434 | 2023 | Mary A Q, Das S, Chaudhary N, Raju K. |
Student Projects
All UG and PG projects are published